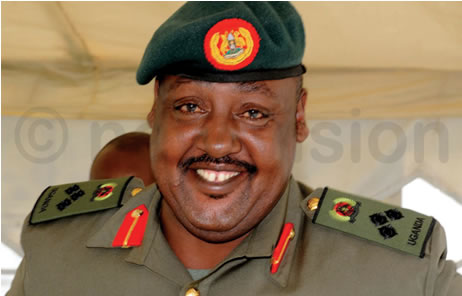 Kavuma replaces Ssentongo at Wazalendo SACCO
During the polls, soldiers also selected the three members to supervise the SACCO operations.
Brig. Samuel Kavuma has replaced Brig. Moses Ssentongo Diiba as the board chairman of the army's saving scheme, Wazalendo.
Kavuma, who is the current commander of the Uganda People's Defence Forces (UPDF) contingent in Somalia, was elected on Wednesday night by over 500 soldiers, who were drawn from every army unit in the country as delegates for the 10th annual general meeting of the Wazalendo SACCO.
Ssentongo will be heading to the army's National Enterprise Corporation (NEC), which largely oversees the business trajectory of the UPDF. President Yoweri Museveni appointed Ssentongo and former Amisom contingent commander, Brig. Michael Ondoga as deputy directors of NEC.
The other members that have been elected by soldiers to run the Wazalendo board include, Lt. Col. Chris Ogumeraki (Vice Chairperson), Capt. Jero Muhendo (Treasurer), 2nd Lt. Norah Ongodia (member representing central), Capt. Peter Muhairwe (member representing Western), Lt. Simon Opolot Lukka (member representing Eastern), Sgt. Peter Osuk (member representing Northern and West Nile) and Lt. Saadah Namatovu (member representing female soldiers).
During the elections, soldiers also selected the three members to supervise the SACCO operations. These members are described as SUPCO.
Brig. Dr. Emmanuel Musingunzi replaced Lt. Col. Joseph Onata as chairman SUPCO. Major Arthur Kwezi was retained as vice chairperson SUPCO, while Capt. Denis Kagyedi replaced Capt. Danson Tayebwa as secretary SUPCO.
The status quo at the senior management team, headed by Col. Simon Ocan, who is the chief executive officer of Wazalendo remained.
According to Col. Simon Ocan, Wazalendo, which is one of largest SACCO's in the country, has 68, 489 members, share capital of Sh79.8b and total savings of Sh60.6b.
From: NewVision