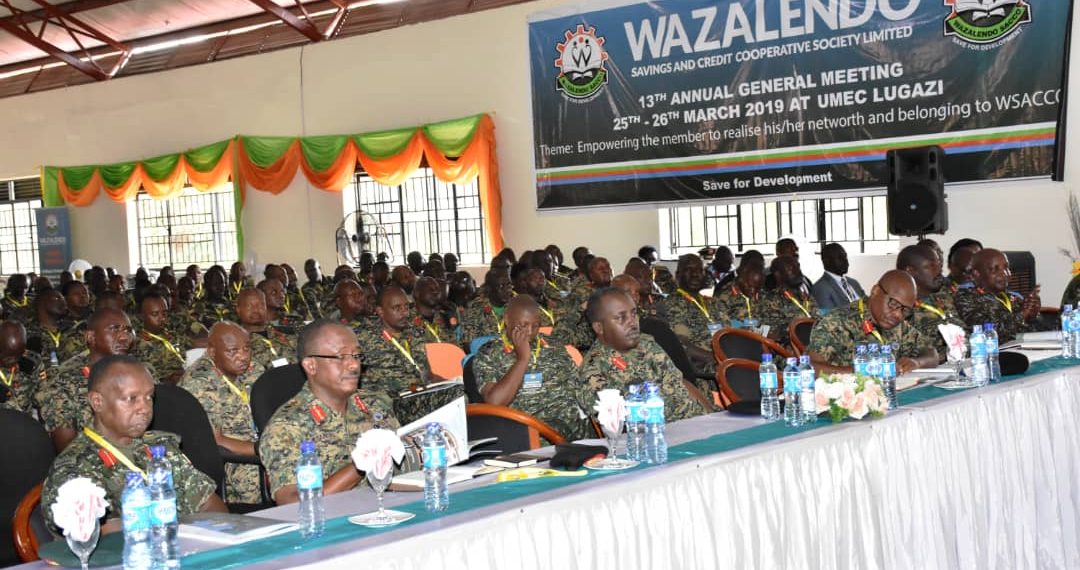 UPDF SACCO hits 271 billion asset base
The UPDF SACCO, known as the Wazalendo Savings and Credit Cooperative Society Limited (WSACCO) has hit an asset base of shs271.1 billion.
This was revealed on Wednesday during the Sacco's 13th annual general meeting held at the Uganda Military Engineering College (UMEC) in Lugazi, Mukono District aimed at sharing and reviewing the performance and operations of the Sacco for the year ended (January to December 2018).
Speaking at the function, the Chief of Defence Forces in the UPDF, Gen. David Muhoozi hailed the progress of the Sacco, equating it to a teenager who has performed "exceptionally" well before becoming an adult.
"We have done well and we should maintain and improve the welfare of our members," Gen Muhoozi told members, adding that it is the duty of the leadership to maintain the sound relationship with the Sacco members to provide reliable solutions that can fight poverty.
He said there must be trust between the leadership and members to have a SACCO that can transform the lives of its members and not just accumulation of figures.
"We need to come up with smart innovations, build strong consensus with members, understand the critical importance of the SACCO and design simple and clear messages to all members for WSACCO to do even better."
Gen Muhoozi encouraged members to invest in assets that generate income like commercial buildings as opposed to investment in luxurious items that yield short term benefits
According to the Sacco's Board Chairman and Deputy Commander Land Forces, Maj Gen Sam Kavuma, the Sacco provides an opportunity for the UPDF fraternity to come together and accumulate a fund that betters their welfare and prepare them for life after retirement.
He noted that with effect from last year, the society's monthly retirement savings on salary increased from 7% to 10% and were followed by a reduction in the refinancing period from 75% to 50% on top of a reduction in interest rates from 15% to 13% .
He said that the asset base had grown from shs219.1 billion last year to Shs 271.1 billion over the last financial year and attributed the growth to the rolled out refinancing that enabled members access more loans on top of their existing loans.
Maj.Gen. Kavuma encouraged members to continue saving by revisiting their enterprise selection and investing in real assets that generate income to fill the liquidity shortfall.
"Any Ugandan who exploits the country's green cover, fertile soils, favourable climate, abundant water, forests and mountains, cannot fail to improve their welfare," he urged.
He however warned on investing in luxuries like cars.
Members adopted and approved the proposal to issue bonuses to shareholders by appreciating the share value from shs10,000 to Shs 15,000 and extending the maximum loan period from 4 to 5 years, increasing the loan size from Shs 40m to Shs 80m, among others.
The Wazalendo Sacco is a Ministry of Defence and UPDF Cooperative society that enables its members to come together and pool savings that can help them access loans to engage in productive activities in a bid to improving their welfare. It was registered in Sept 2005.
The army Sacco, registered in 2005, is the biggest Sacco in Uganda with 70,087 members.
Source: https://nilepost.co.ug/2019/03/27/updf-sacco-hits-271-billion-asset-base/