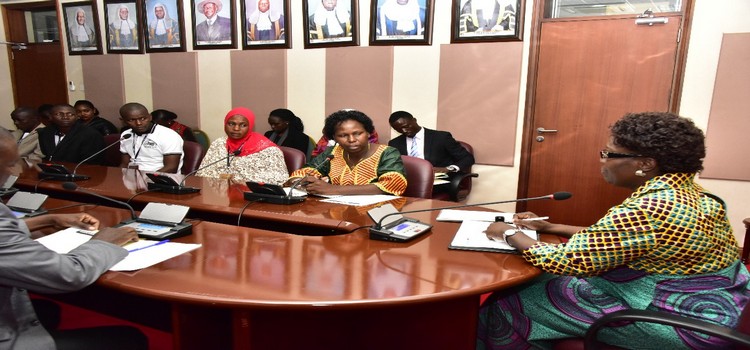 Speaker pledges support to Iganga SACCO
Speaker Rebecca Kadaga says government is committed to supporting organized cooperative societies around the country. While meeting a delegation of members from the Bukhoyo Parish Bodaboda Cooperative Society based in Iganga on Monday, 03 February 2020, Kadaga observed that it was prudent to support cooperatives that have progressive operations.
The delegation was led by former Iganga Woman MP, Hon. Olivia Kabaale Kwagala on behalf of Kigulu South MP Hon. Andrew Kaluya, and cooperative chairperson, Paul Nsio Waiswa.
Kwagala thanked the Speaker for being an advocate for the affairs of Eastern Uganda and Busoga in particular and called for her support."As a Speaker of Parliament, you have seen the passing of several laws particularly the Cooperative Societies Act that governs this group. I request you to guide them on the issues they have come to present," said Kwagala.
Waiswa appreciated Government's support to youth associations in the country adding that most of the members in the Bukhoyo Parish Bodaboda Cooperative Society were youths.
He added that the cooperative is legally registered and presently has 137 members, with projects ranging from loan disbursement, poultry rearing and equipping members with hands-on skills.
"We have a challenge of financing the small loans we give out to our members and we request you to engage President Yoweri Museveni to support our organization with shs100 million to boost our capital to work on the loans and improve the poultry farm," Waiswa said.
He also called for support in acquisition of a service van to ease transportation of their animal produce as well as sewing machines for the women in the group.
Kadaga committed to engage the necessary stakeholders to improve the operations of the Sacco.
"I will present your request for shs100million funding to the President and I will present your request for provision of motorcycles to the Minister for Microfinance. I will work with Hon. Kaluya to invite Enterprise Uganda to train your people," Kadaga said.
She also committed to donate sewing machines to the cooperative, to present a tailoring work-opportunity to the women in the group; and also advised the group to maintain books of accounts and hold regular meetings so as to enable them easily acquire financial support.
Source: https://www.parliament.go.ug/news/4002/speaker-pledges-support-iganga-sacco